Horse Showdeo
Sunday September 24, 2023
9 a.m.
All ages are welcome and this Showdeo is FREE to participate in.
We will have most of the gaming events;  Barrels, Poles, Pennant, Jumping Figure 8, Speed Dash, Speed & Action, Ribbon Race, Rescue Race, etc.  This is a small showdeo, which makes it great for all ages, young and old! We like to add a twist to things by adding fun events such as a Boot Race, a Bat Race or maybe even a water involved race, depending on the weather. You just never know and we are always up for suggestions if the kids want to add something.  We just like to have fun! Events are subject to change, the above list is just to give you an idea as to what we may have.
Ribbons are awarded for 1st-6th place.
Please join us in the Rod Hopkins Arena to saddle up and ride!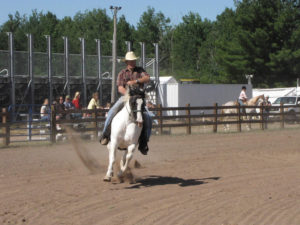 You must provide a copy of a current coggins before signing up.
For questions, please call or text 715-791-0985 or email info@cbcfair.org